Charles J. Connick's Adventures in Light and Color: An Introduction to the Stained Glass Craft (1937) was copiously illustrated. Of particular interest are multiple copies of 35 colored plates of stained glass windows, window details, medallions, and patterns that remain from the set of 42 printed for the book in France and Belgium. Eighteen of the plates are taken from paintings by Charles Connick. Each color design is mounted on an 8 1/2 inch by 12 inch black background. In addition, colored plates published in Connick's article, "Modern Glass – a Review: Present-Day Artists and Craftsmen Are Carrying on Splendid Traditions of the Ancient Art of Stained Glass," International Studio (October 1924) are available.
These prints may be obtained by contacting Hammersmith Studios, at 978 269 5424, or by email.


Connick Studio Music 2014 Calendar
January – December 2014 Wall calendar features a different image each month. Measures 4 1/2″ wide by 11″ tall. More…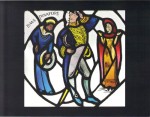 Connick Studio Gilbert & Sullivan Notecards
Set of eight, Blank Notecards in four designs.
More…


Connick Studio Medallions Notecards
Set of ten, Blank Notecards in five designs.
More…

Light and Color in Stained Glass: Address Delivered in the Heinz Memorial
Chapel, April 19, 1941,
from the Pittsburgh History & Landmarks Foundation.
On April 19, 1941 Charles Connick gave a speech, "Light and Color in Stained Glass," at Heinz Memorial Chapel at the University of Pittsburgh, which had been dedicated on November 20, 1938, and for which he designed and made all the windows. More…

2010 Orin E. Skinner Annual Lecture (DVD)
This DVD contains the complete lecture by Mr. Cormack filmed at Fourth Presbyterian Church Chicago, shown at the 2010 Orin E. Skinner Annual Lecture at All Saint's Parish in Brookline. More..

Charles Connick: His Education and His Windows In and Near Pittsburgh
by Albert M. Tannler, Foreword by Peter Cormack
Charles Connick spent 22 of his first 32 years living in Pittsburgh, and it was there that he learned and first practiced the art and craft of stained glass windows design and fabrication. In 1909 he settled permanently in the Boston area, living and working there until his death. More…

2008 Orin E. Skinner Annual Lecture (DVD)
"Transatlantic Gothic: Aspects of Anglo-American Medievalism"
This DVD contains the complete lecture given by Mr. Cormack at the 2008 Orin E. Skinner Annual Lecture in Marsh Chapel at Boston University. More…

History and Practice of Stained Glass (DVD)
A Lecture by Orin E. Skinner
This is the final formal lecture given by Orin E. Skinner, Stained Glass Artist and Master Craftsman of the Connick Studio. This DVD, recently reproduced and enhanced, contains the complete lecture given by Mr. Skinner in 1989. More…

Stained Glass Tours: Boston
by Orin E. Skinner
In conjunction with the Boston Public Library's Connick Studio exhibition and with the Stained Glass Association of America's 2004 Summer Convention in Boston, The Connick Foundation republished Orin E. Skinner's article Stained Glass Tours: Boston with accompanying map in booklet form. More…

The Stained Glass Work of Christopher Whall 1849-1924
by Peter Cormack
Published in 1999, this is a revised version of the lecture given by Mr. Cormack at Boston Public Library in 1997. This 60-page book includes a foreword by Jonathan Fairbanks, 15 color reproductions, 6 black and white photographs, and complete notes and bibliography. A review of this work is included in the October 2000 Connick Windows. More…
Vol. XXVIII, Journal of Stained Glass: America Issue (2004)
Article: Glazing 'with careless care': Charles J. Connick and the Arts & Crafts Philosophy of Stained Glass
by Peter Cormack
"In this essay, I shall examine a number of Charles Connick's window commissions from the 1910s to the 1930s, to suggest that the English Arts & Crafts 'philosophy' of stained glass, as articulated above all by Christopher Whall, was fundamental to his tremendously successful career and his emergence as, in my opinion, the greatest of all American stained glass artists…" More…
The Journal is sold through the British Society of Master Glass Painters. You may write to them at: BSMGP Hon. Secretary, PO Box 15, Minehead, Somerset, TA24 8ZX, UK; ; or visit their web site: www.bsmgp.org.uk/Publications/.